5 min read
2022 - or -2020, Too?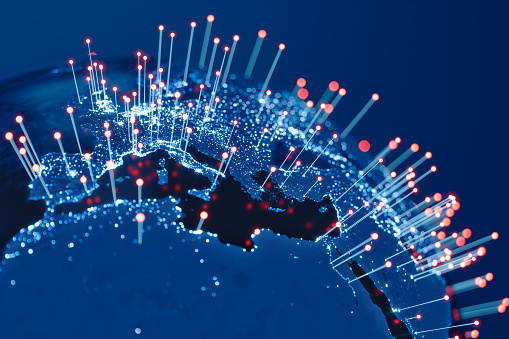 Over the past two years, the pandemic has caused distorted perceptions of time for many of us, as each day in quarantine has felt a lot like the previous; yet we have been experiencing events collectively that none of us have ever witnessed. The events of 2021 turned out to be just as mind-blowingly difficult to keep track of as those of 2020. As if changing the calendar year can stop a pandemic, or a market rally for that matter... Early in 2021, people were already penning retrospectives on the first hundred days of 2021. At first, there was a gallows humor about the impossibility of keeping up with the sheer amount of timeline-breaking, unprecedented "stuff" happening. Then the surreal just went on, and on, and on, until we were all too exhausted to remember the joke.
For global financial markets, the second year of the COVID pandemic has been nearly as dramatic as the first. The stock bulls have stayed firmly in charge, surging energy and food prices have turbo-charged inflation, rattling the bond markets, while China has seen $1 trillion wipeouts in its heavyweight tech and property sectors. On top of all that, Turkey exits 2021 in currency chaos, bitcoin and crypto have continued their giddy outperformance, small-time traders gave some hedge funds a drubbing and, though green investing has gone mainstream, dirty old oil and gas have been the big winners, up more than 40% and 50% respectively.
Before we look ahead to 2022, let us give a caveat and draw ties to the blogs for our past two years' worth of outlooks: from January 2021 -New Year, New Projections & Predictions and February 2020-The Hazards of Forecasting. In each, we wrote about the futility of such annual forecasts and projections as the calendars roll over. That said, here we go again. We are optimistic on the economic prospects for 2022 and expect growth to continue as we have solidified household and corporate balance sheets while corporate earnings are growing briskly. As we head into 2022, we see a vibrant cycle underway. Should this forecast pan out, the downside will be that inflation concerns will mount further, and the debate over the pace and extent of monetary "normalization" will dominate the investment landscape.
And what do we think will happen with the COVID pandemic? This time last year, we hoped that the new vaccines would help control the pandemic and allow economies to re-open. That did happen, to a degree. However, we are again in the midst of rising caseloads and hospitalizations in many countries, as well as increasing restrictions on mobility once more. Sure, by the end of next year, the COVID pandemic could be over. However, that doesn't mean the coronavirus will disappear. If COVID becomes an endemic illness, a disease of relatively low severity that constantly circulates throughout certain parts of the world, the virus' pandemic phase could come to a close in 2022.
The thought of coping with COVID forever might sound daunting but living with an endemic virus is very different than the world's past two year's pandemic life; and the transition won't happen overnight. Endemic does not mean we'll be rid of COVID entirely, but rather that we'll learn to live with it and see less transmission and less severe outcomes in people who get infected. So far, COVID-19 has been hard to predict, and each subsequent variant have taught us to stay humble. It's impossible to know exactly what will unfold in the coming months and years, but the shift to endemic illness would likely not require future lockdowns or mandates. Gradually, we will reach a point when society becomes comfortable with the risks associated with COVID-19 infection. At that point, when the risk of becoming severely ill or dying is low, COVID-19 will enter a manageable phase where masks, distancing, shutdowns, and mandating vaccinations are no longer needed. This is how it goes with the flu. The flu happens every year but the economy and healthcare systems have means to cope with it.
Each successive wave of COVID-19 cases has delivered a smaller hit to economic activity, reflecting rising vaccinations and the strengthening foundations of the global economic recovery. The US consumption outlook is the best in decades from the perspective of employment, wages and household balance sheets. Consumer uncertainty is elevated, as measured by soggy expectations, which is not surprising given overwhelmingly negative headlines. However, this cloud has not been sufficient to hold back spending, although when the pandemic drag begins to dissipate, a shift is likely from durable goods to services.
This next year will likely be quite different than the last decade for the US and Euro area, and thus for the overall global economy. A number of powerful economic headwinds are no longer in place in these two important economic regions; namely, last decade's deleveraging in their household and financial sectors, and persistent fiscal austerity. Consequently, on average, we expect better growth this decade for the US and Europe, and for inflation to hold above 2%. This, in turn, will (eventually) extinguish the secular stagnation narrative that has dominated sentiment at central banks and in the bond market for over 10 years. And while we expect economic growth to remain strong in 2022, the starting point for the stock market, with elevated valuations as well as revenue and earnings growth which will have to lose some steam from the initial rebound from the pandemic, and less accommodative monetary policy point to moderating stock returns and potentially more frequent bouts of volatility.
The distortion at the long end of the US yield curve should also unwind, implying negative government bond returns and a headwind for equity valuations. Assuming an orderly rise in bond yields, then equity prices should still benefit from rising corporate profits and generate positive returns in 2022, albeit more muted than the initial pace of the increase since November 2020 and with greater volatility, and probably better relative performance in what were the market laggards. However, should the rise in bond yields turn disorderly, then there will be few places for investors to hide. Central banks will fight hard to prevent such an outcome, and we would still place low odds on such a scenario for 2022.
What was hoped for 2021 may at last come true in 2022 – a "return to normalcy." The implications of a regularization of economic life are different for different investment assets—equities, bonds, office property, cruise line stocks, etc. The pandemic, we have learned, has a long tail of supply chain disruptions, shifted consumer and worker expectations, and the continuing risk of the emergence of new variants. Yet medicine and economies are resilient systems, given enough time. We would be foolish and hypocritical to predict the date of the pandemic's end—still less, the level of the 10-year Treasury yield at that point. But some signs of a direction toward a (new) normal are apparent, and investors would be wise to heed them.