Wealth Planning
Open-Minded
Wealth Planning
Instead of a check-the-box approach to planning our clients' financial affairs, we view ongoing, proactive planning as the foundation of the advice we give. As fiduciaries, we do whatever is in our clients' interests. That open commitment often leads us into planning topics well beyond the reach of many other advisors.
The Most Important Decisions
ARE OFTEN ABOUT PLANNING, NOT SPECIFIC INVESTMENTS
Tax Strategies
Cash-Flow Management
Risk Management
Estate Planning
Fringe Benefit and Goal Planning
Note that each client relationship is different; not all services are part of every relationship.
In fact, technical expertise in wealth planning is what got WMS started. Over the years, we have developed sophisticated techniques in the planning topics that matter most to our clients.
From our decades of working with multigenerational families, we have also come to appreciate an important truth: In the long run, wealth-planning decisions often matter much more to client outcomes than specific investment choices.
What Matters Most to Client Outcomes
Financial news networks cover every shred of company news as if it is of maximum importance to investors. But the reality is that the fortunes of an individual stock often matter relatively little in the long run. Instead, it is the wealth-planning and family-legacy decisions you make that may matter the most.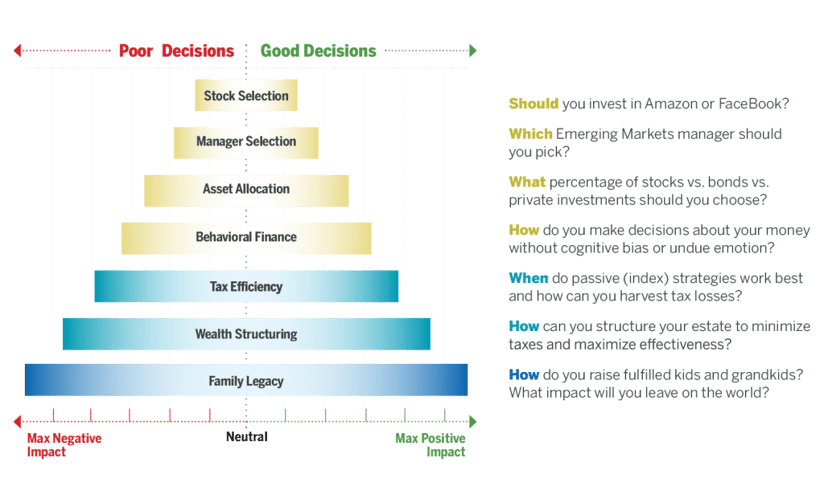 Disclosure. The scope of any financial planning and consulting services to be provided depends upon the terms of the engagement, and the specific requests and needs of the client. WMS does not serve as an attorney, accountant, or insurance agent. WMS does not prepare legal documents or tax returns, nor does it sell insurance products.