Thoughts on the Market
10/17/2014 Insights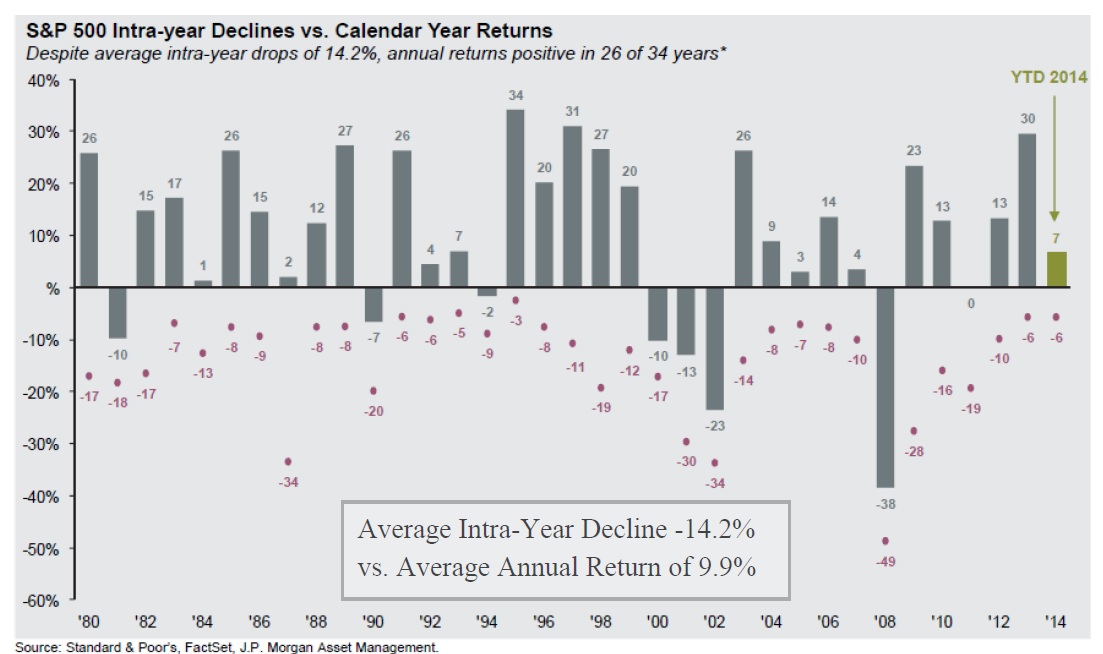 The recent slump in stock prices does not appear to be justified by economic data, especially given the boost that cheaper oil should provide to global growth. We believe that this sell-off is a muted version of the deflation scare setbacks that we had several times in 2010, 2011 and 2012 (at least at the global level, this time has been more severe for euro-area stocks). It might feel slightly different, but it's only because we haven't had one of this magnitude in a while. We do not believe that the world economy has suddenly taken a major turn for the worse.
Further turbulence will persist in the near-term. But the big picture outlook of historically very easy policy conditions and gradually firming US-led growth should ultimately win out, allowing the market to resume rising.
The chart above shows intra-year stock market declines over the past 30+ years (represented by the negative number beneath each annual return - which is portrayed by the gray bars in the graph). You can see from the chart that there are many instances in the past where we have had greater intra-year declines than we are experiencing now and yet still ended the calendar year with positive returns. There is no guarantee that calendar year 2014 will finish with positive equity index returns, but the point is that the market has recovered in quick fashion from much worse declines in the past.
In fact, over this entire period of time, we can see an average rate of return of about 10%, with intra-year declines that averaged 14%. We believe that market swings do influence investment decisions, but shouldn't take away from how you assess your long-term financial goals.
Let's use an analogy to illustrate: consider our elevator ride each morning to our office at Towson City Center. We press the button, get in the elevator and wait to get to the 8th floor. Some rides are slow if the car is full, some rides are smooth and sometimes we get on a down elevator when we want to go up. We might experience some frustration along the way if we are not getting to our destination as quickly as we would like. Eventually, though, we get where we are trying to go. The truest sense of risk in investing, especially for long-term investors, is the failure to achieve a final outcome. As long as you don't jump off the elevator while it is moving, you will end up where you need to be.
Think about reacting to volatility for a minute. It's really an emotional barometer. Some traders and investors buy and sell on reaction (and usually overreaction) to news and speculation without any consideration to long-term returns. Recall the sell-offs in the recent past and look at where the markets are today. Volatility went through the roof, but did it really affect the long-term returns of an investor who assesses risk in terms of long-term failure to meet a final outcome? No. In fact, those who stayed invested while experiencing extreme volatility are probably better off for having done so.
Please keep in mind that we stress the importance of diversification and managing volatility and risk in our portfolios. As always, we are watching the activity of the capital markets closely and will be in touch as things evolve. We appreciate your trust and we welcome your thoughts and concerns.
IMPORTANT DISCLOSURE INFORMATION .
Different types of investments involve varying degrees of risk. Therefore, it should not be assumed that future performance of any specific investment or investment strategy (including the investments and/or investment strategies recommended and/or undertaken by WMS), or any non-investment related services, will be profitable, equal any historical performance level(s), be suitable for your portfolio or individual situation, or prove successful. WMS is neither a law firm nor accounting firm, and no portion of its services should be construed as legal or accounting advice. A copy of our current written disclosure statement discussing our advisory services and fees is available upon request (OR at www.wms-partners.com). The scope of the services to be provided depends upon the terms of the engagement.